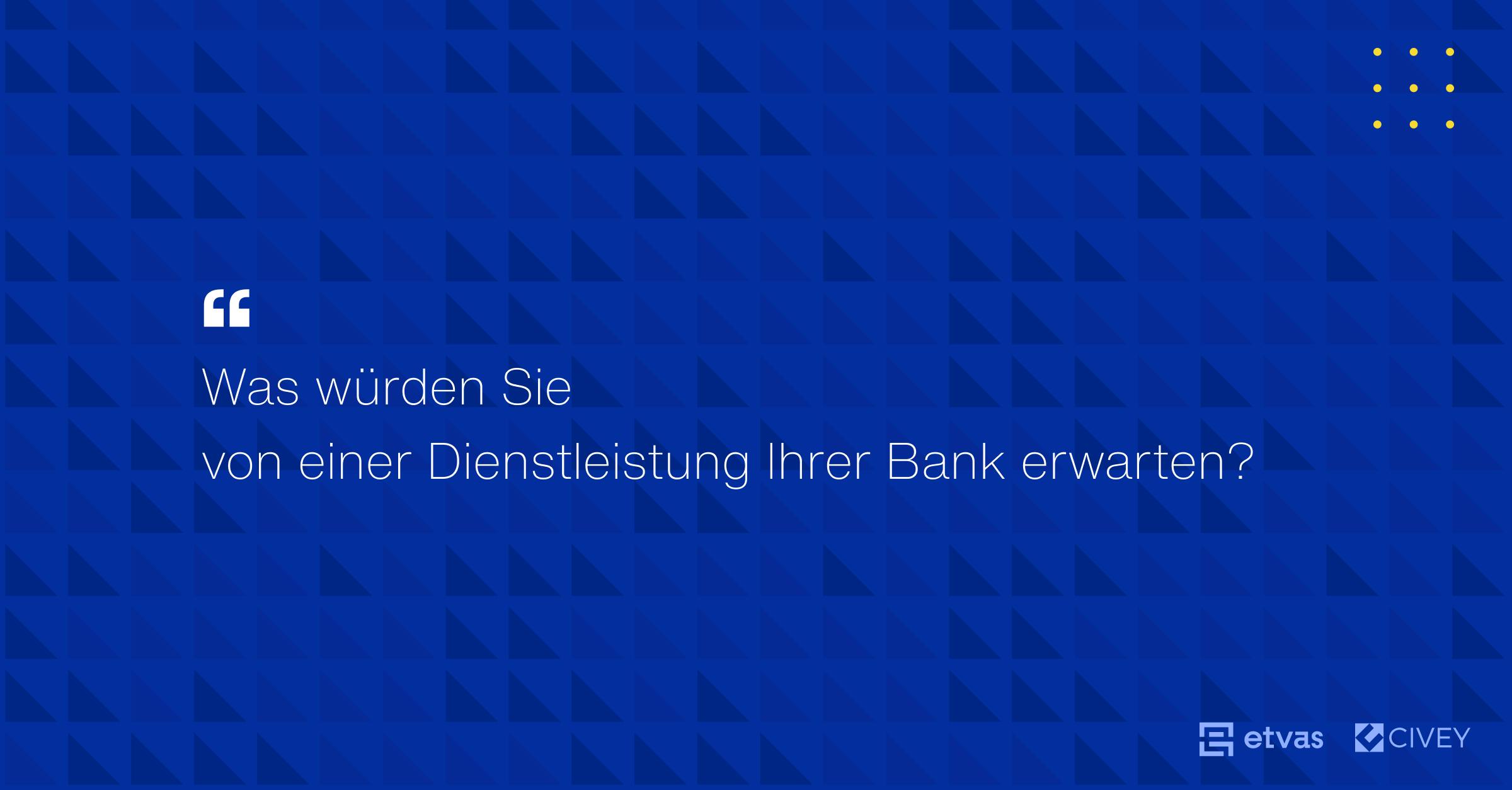 Banks still stand a chance to become more relevant to young people. Civey Study in collaboration with Etvas shows how. 
The banking industry is going through a radical transformation, there's no doubt about that. Customers today expect more personalized, meaningful experiences via user-friendly, intuitive interfaces available at any time, from any device. The costs involved for acquiring a new customer are estimated at €169, whereas the revenue generated by that customer in the first year is only €127. On average, a bank makes a profit only in the 2nd year. With 80% of customers willing to switch banks for a better customer experience, the myriad of options out there should make the whole industry understand the battle for future market share is real.
According to Accenture's 2019 Global Financial Services Customer Study, "50% of consumers expect financial providers to offer propositions addressing core needs, and not only traditional financial services." 
Value-added services are becoming more popular with digital natives
Whoever has been a neobank client during the past 2-3 years knows that loyalty programs are becoming the norm, especially among pioneering banks such as Revolut, N26, Kontist or Penta. Cashback models are becoming predominantly popular among some Sparkassen and Volksbanken as well: clients of the bank make various purchases in an online shop and get back up to 15% of their expenses.
A previous partnership of N26 with scooter rental company Lime allowed owners of an N26 account to only pay for half of the ride. Various similar partnerships can be found on the N26 website, with companies spanning clothing, health & lifestyle, travel or transport.
But what do young Germans expect from their banking provider?
Young Germans see their bank as more than just an account provider or lender. Above all, they are, little by little, prone to exploring the value-added services that their banks have to offer. For example, 36 percent of 18- to 29-year-olds would like to receive support and assistance from their bank in the area of housing. There is also demand for additions to the traditional range of services in the areas of security, career & education, and mobility & transport. This is the result of a survey conducted by Civey on behalf of etvas. For the representative study, 5,025 German citizens were surveyed in June 2021.
When asked what qualities would convince them to recommend their bank to a friend or colleague, 16.8% of people surveyed claimed they would prefer their banks to offer them services that are more related to real-life events.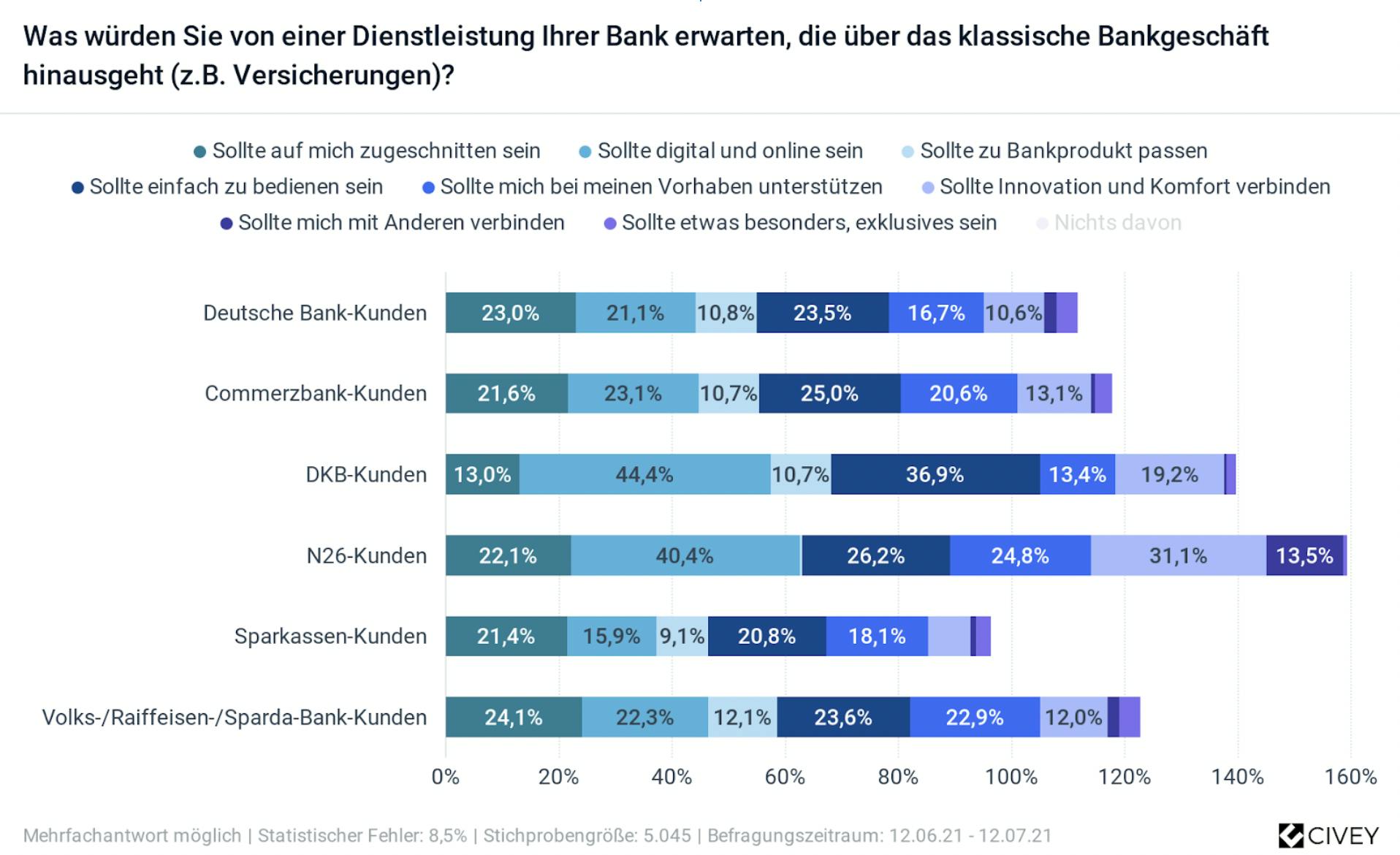 Additionally, 22.4 % of the people surveyed would prefer that the services offered by banks are more tailored to their specific needs. Whereas 19.3% would prefer that they are supported in their plans.
11% of those interviewed claimed that they would appreciate it when their bank mixed innovation and comfort more, and amongst the most preferred themes there is "home and living", "security" and "mobility".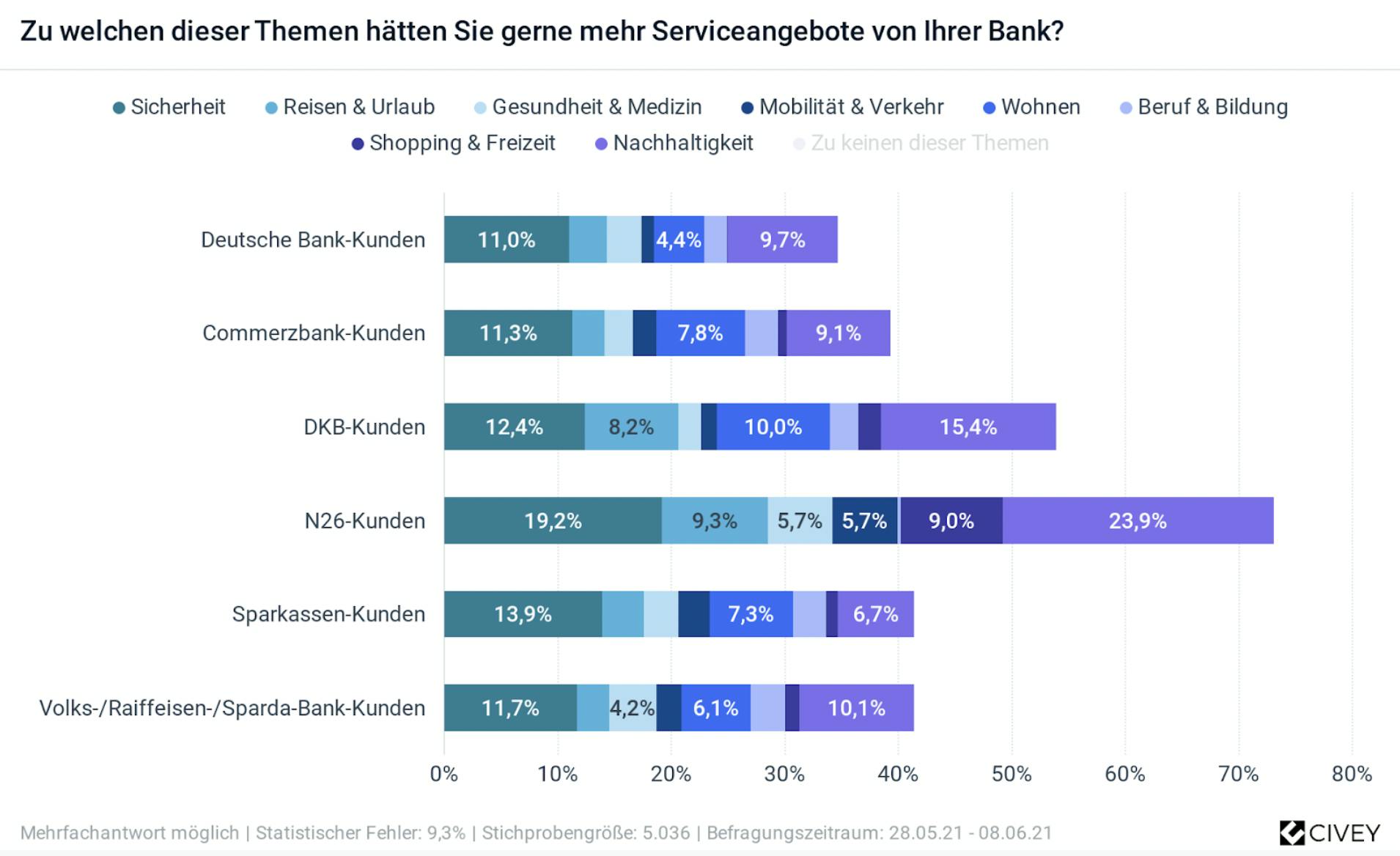 When it comes to the "security" ecosystem, both the group from 18 to 29 and from 30 to 39 are mostly interested in "protection from data misuse", whereas interest for "Antivirus" protection is most present among the 18-29 group.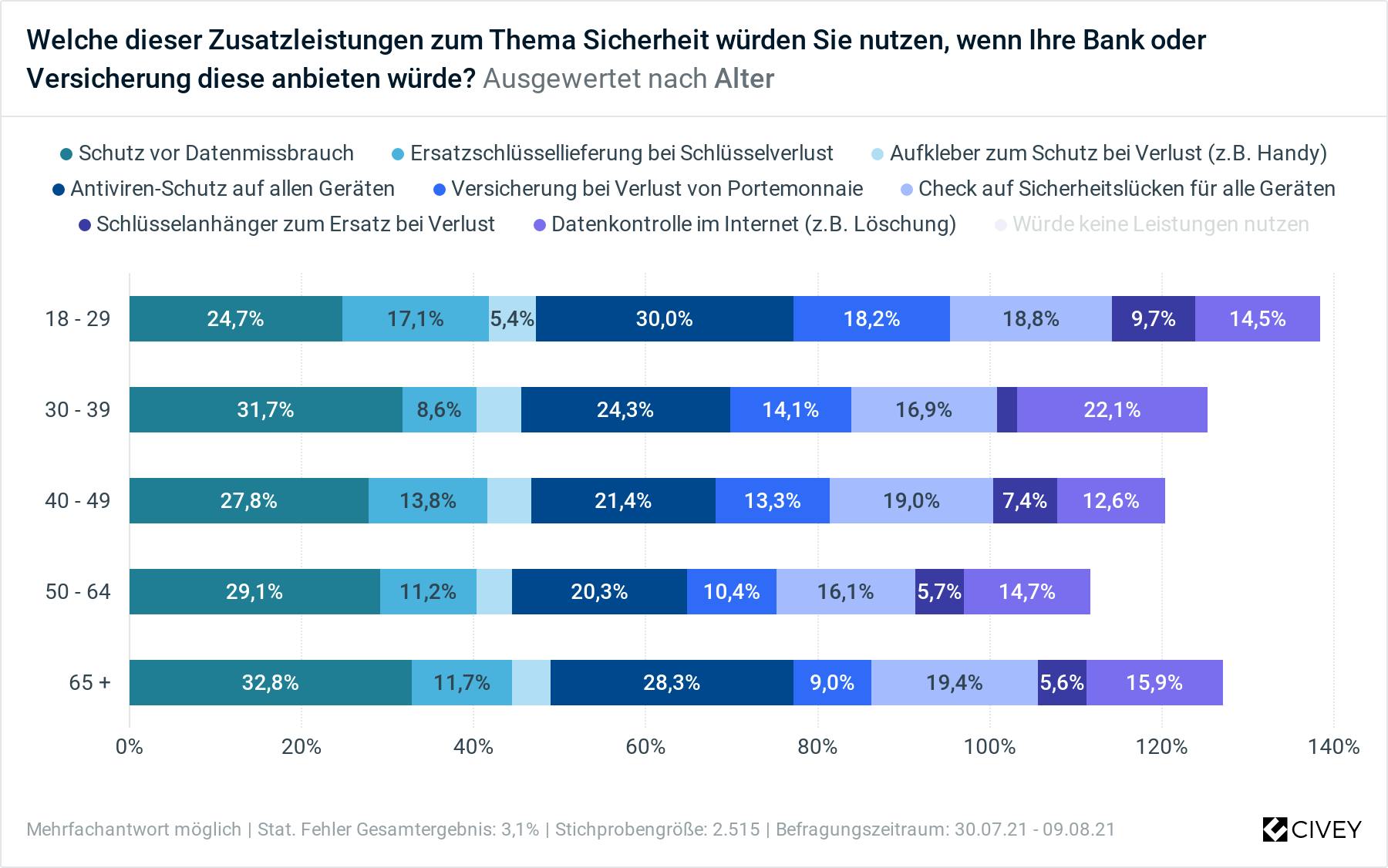 The "Home and living" category of our study generated additional interesting results: legal advice seems to be among the most sought-after feature a bank or insurance company could offer in addition, among all age groups, but particularly the 30-39. Support with apartment search is second in line, followed by handyman maintenance services.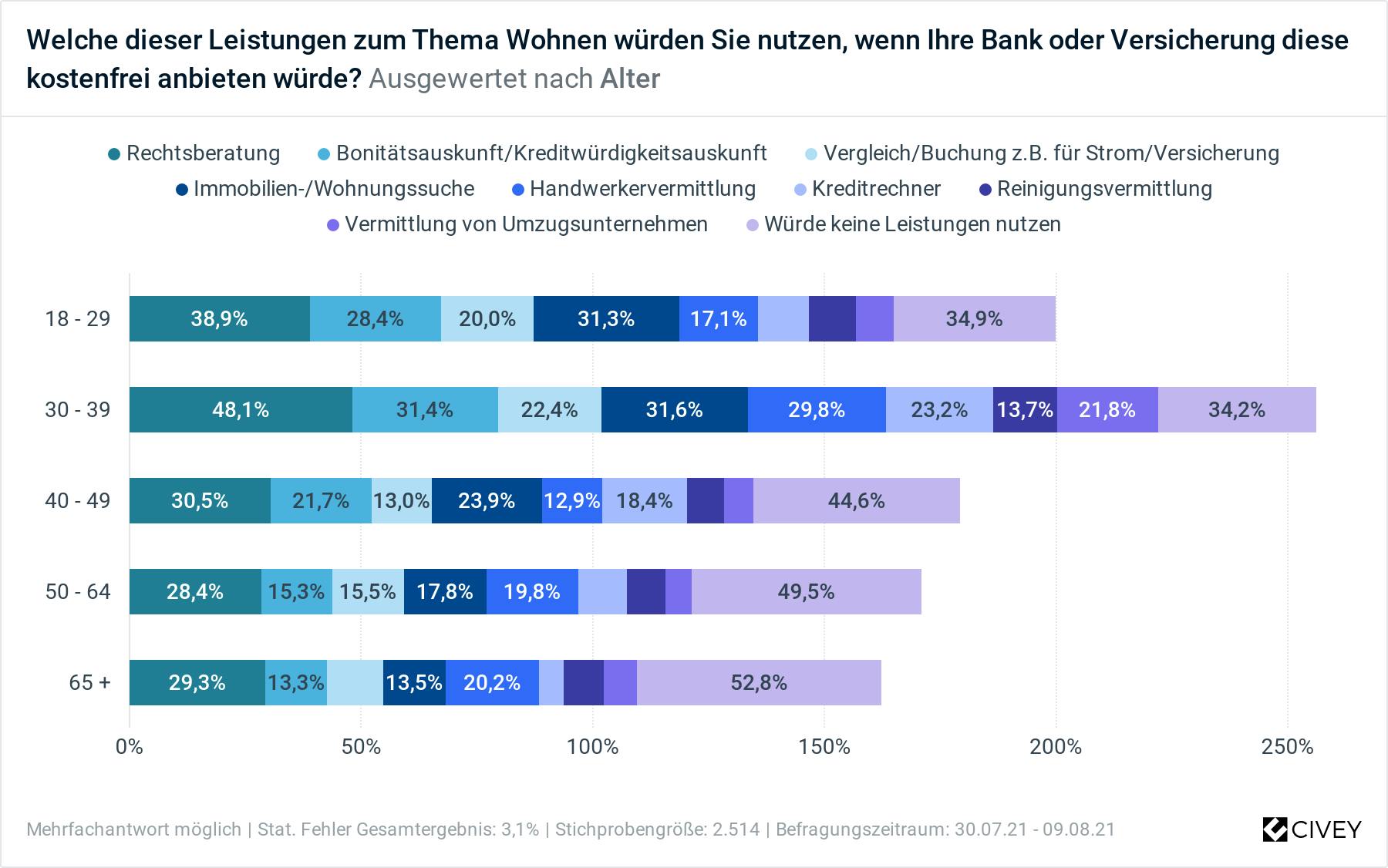 "The younger generation in particular wants support services from banks that go beyond the core portfolio and make everyday life easier," says Sören Timm, co-founder and CEO of etvas, the digital B2B2C marketplace for value-added services. "Institutions can score points with such services, especially with this young target group. In this way, they retain career starters and young professionals, whom many banks have long since given up on in the competition with neobanks and other challengers."
The right approach for young target groups
But the services must meet the expectations of digital natives, otherwise they don't stand a chance. The respondents demand a high level of user-friendliness for value-added services. And the bank - even if it wants to be recommended to others - must above all ensure that the online presence is simple and the offers are adapted to everyday life. Only in third place do the 18- to 29-year-olds mention the quality of the services.  "For the provision of additional services, banks should therefore use a solution that can ensure seamless integration into their own system," says etvas founder Timm. 
Quick selection of services from the construction kit
The B2B2C platform developed by Hamburg-based fintech etvas functions like a configurator for high-quality additional services. The value-added services go through a selection process and are thematically located in different areas, such as insurance, warranty extensions or digital security solutions. These value-added services can be played out in the bank's online portal via a single interface.
The B2B2C platform developed by the Hamburg-based fintech etvas uses its technology to support banks, insurance companies, and e-commerce companies in the development of digital ecosystems or living worlds around topics such as housing, life, security or even sustainability. From the sourcing of service offers, to the technical integration of new offers, to the provision of the end customer portals, etvas takes over all tasks for its business partners, whereby the technical integration is carried out via a single interface.
According to etvas founder Timm, the advantages of the platform lie in its rapid implementation and ease of use. In addition, there is no need to search for suitable service partners or integrate them into the company's own IT system. Instead, the desired service as well as the term and the sales price can be selected via a modular system - and the new additional services are activated for the end customer.