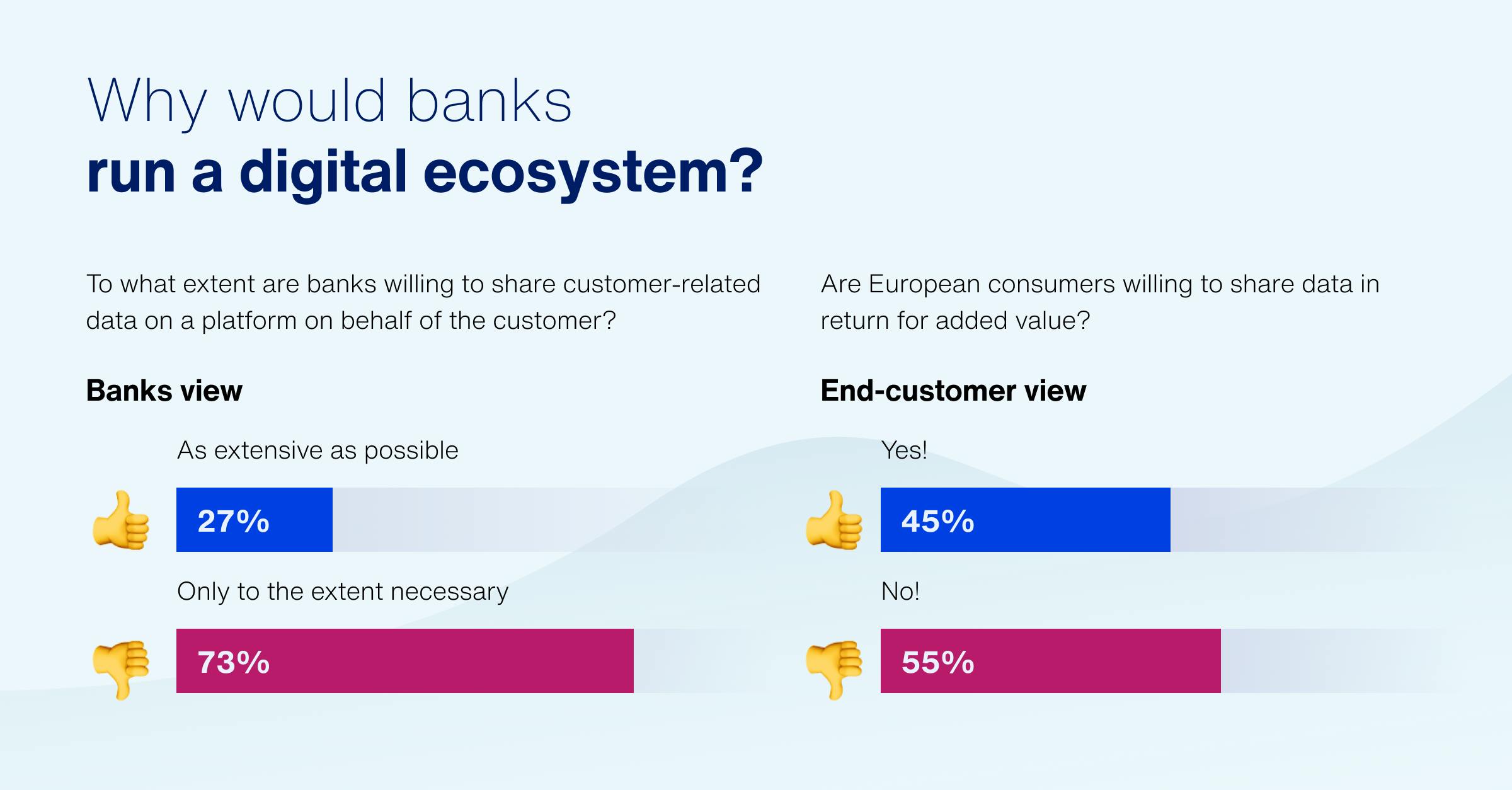 A digital ecosystem consists of a platform-based business approach in which multiple services beyond classic bank products are provided to customers in an integrated and coherent suite
Relevance of digital ecosystems for German banks 
Based on a PwC survey done on 30+ German Bank decision-makers 
Introduction 
A digital ecosystem consists of a platform-based business approach in which multiple services beyond classic bank products are provided to customers in an integrated and coherent suite. It is made up of three categories of stakeholders: banks, customers, and third-party providers of extra services. All of them stand to benefit from ecosystems. Following a survey done by PwC on the relevance of digital ecosystems for German banks, the results point out that it's a highly relevant topic in the years to come. Over 30 decision-makers were surveyed, and the majority agreed that German banks are in dire need to take action - regain relevance to the consumer to increase revenue via new and innovative business models.  
Original study can be found here.
Digital ecosystems, an opportunity to regain relevance & increase revenue 
Increasingly more German banks are looking forward to developing digital ecosystems, with 95% of interviewees mentioning plans for live operation until 2026. In fact, the study pinpoints that 90% are already considering the implementation of a digital ecosystem with the motivation to boost customer relevance; something that can only be done via non-banking services.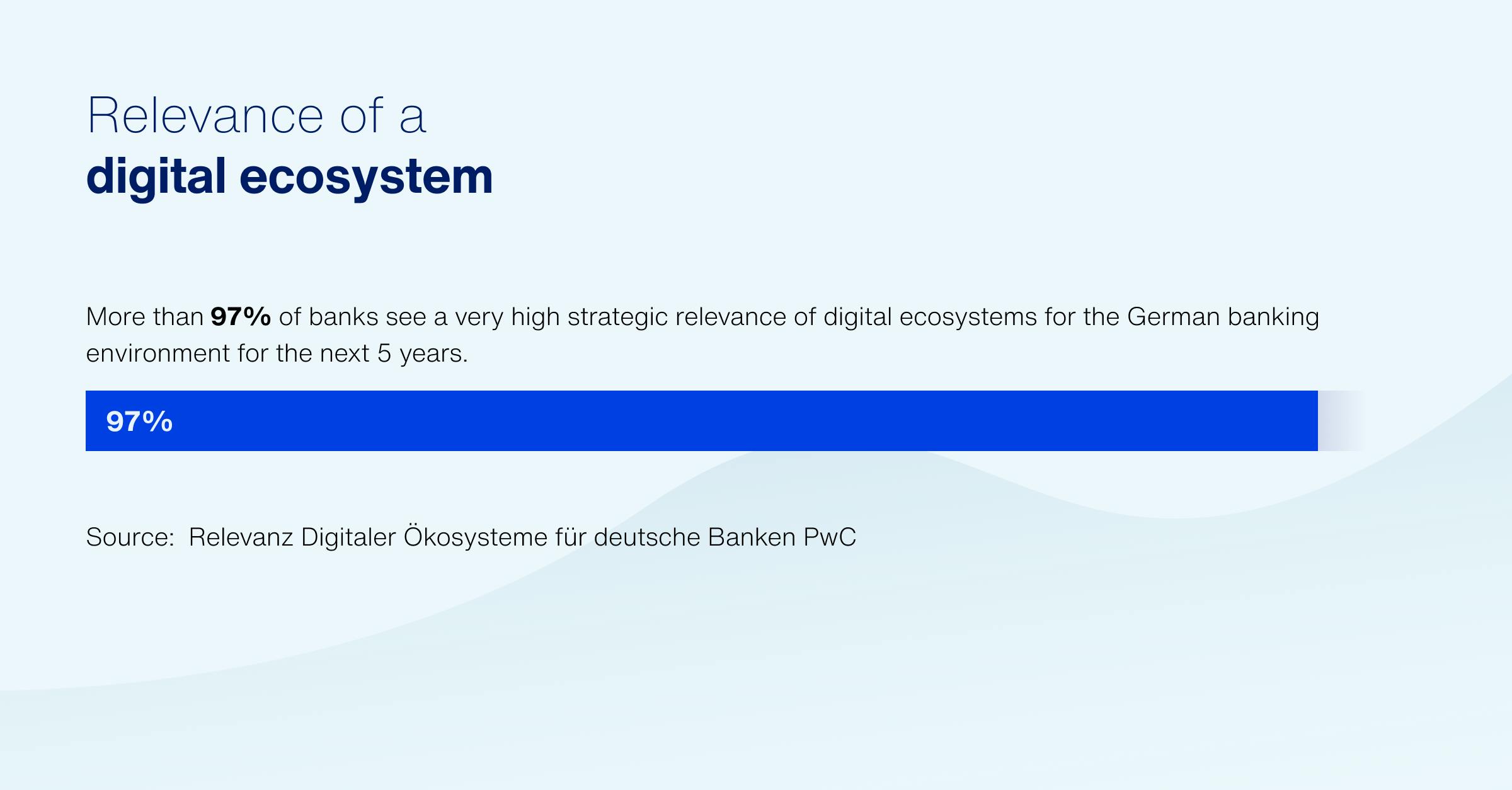 The relevance of digital ecosystems will increase in the next 5 years 
Out of the 30+ decision-makers surveyed, nearly 50% acknowledge the relevance of digital ecosystems as early as 2022. However, the level of maturity required to implement them remains low. On the bright side, it's a highly discussed topic that will most likely become a top priority in the years to come.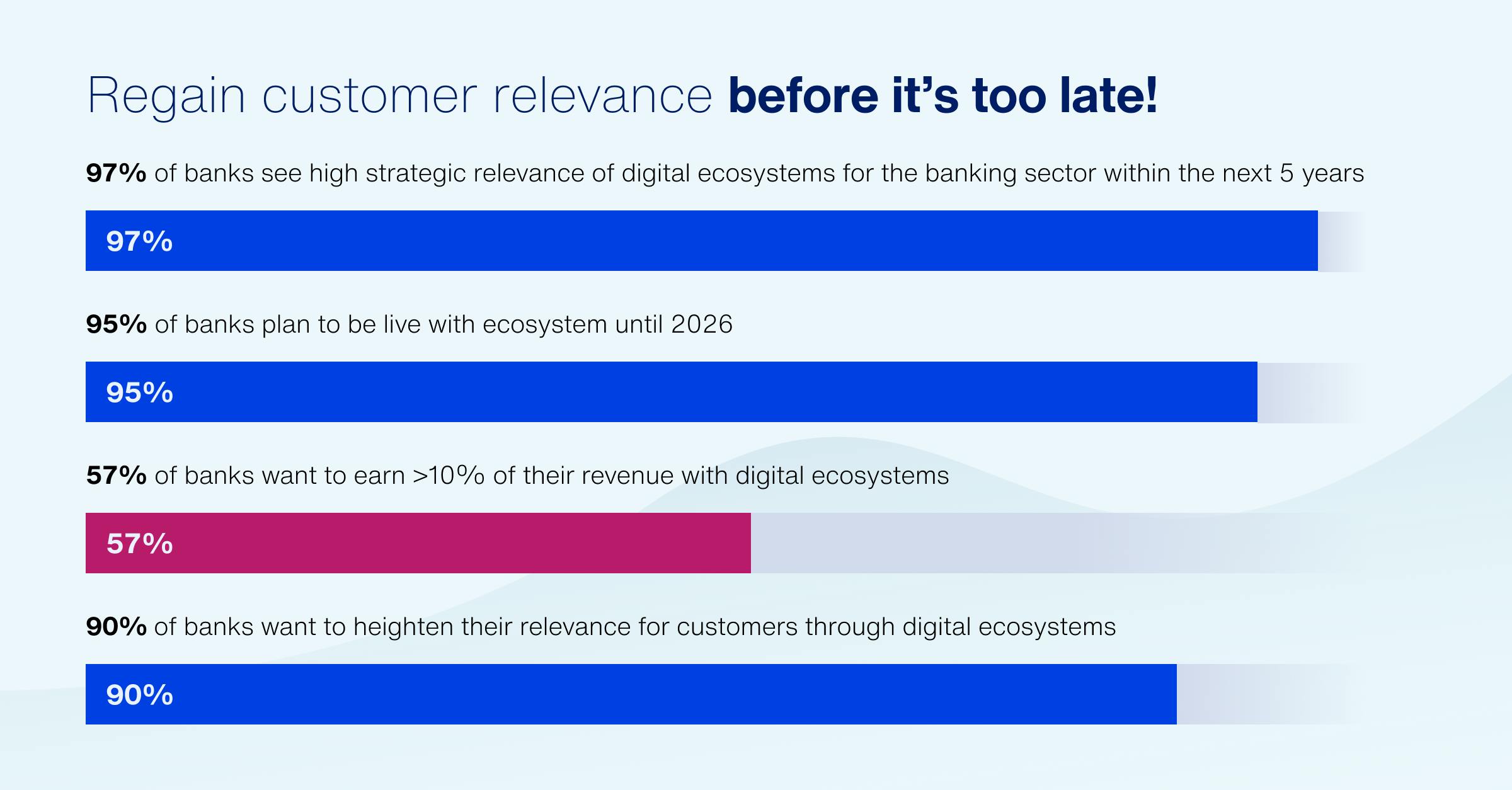 A combination of separate products & services, one digital ecosystem 
The main objective of a digital ecosystem for the banking industry is to combine separate products and services into a cluster. The end goal is to bring added value to the end customer with direct implications on the operational setup of the platforms.  
Although 90% of the decision-makers surveyed by PwC argued that banks expect customers to accept them as ecosystem operators, 75% have admitted that customers would also choose other institutions' ecosystem operators. 
Banks are accelerating ecosystem development 
It looks like German banks are strongly accelerating ecosystem development, with 95% planning to go live by 2026. On the downside, their low predisposition to invest doesn't match with their ambitious revenue targets. 
Why would banks run a digital ecosystem? 
In a digital ecosystem offering, various stakeholders become providers of products and services, the core benefit being the connectivity to a single, customer-oriented digital platform. Adopting an ecosystem enables banks to expand their points of access to the financial products in their portfolio. Also, they can reinforce their position with non-financial services that their customer base might have an interest in buying.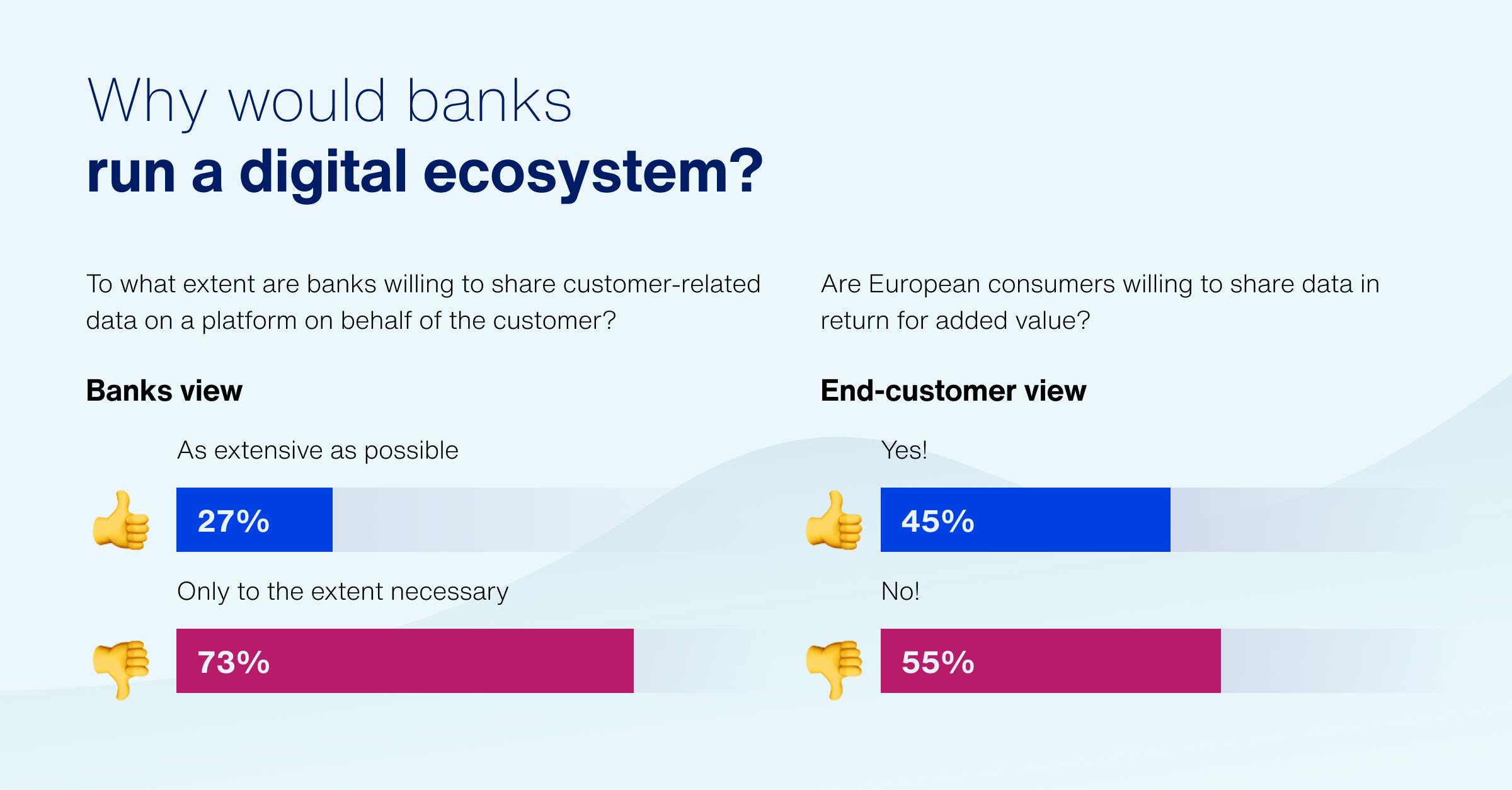 Relevance for the end-customer only achieved via non-banking services 
For end customers to find digital ecosystems relevant, banks must integrate non-banking services.  Transitioning from the segmentation approach (e.g. SME, private customer, student) on to the living environment of customers, banks can respond to their needs in a more targeted fashion; in a more comprehensive way that aligns non-banking services with their living environment and lifestyles.  
Only ~25% of banks are open to sharing customer data. Customers, on the other hand, are way more willing to do that as long as they get value for it. This is where a digital ecosystem comes into play! Its purpose is to help banks become a curator of open marketplaces and eradicate friction that comes with most banking processes rather than remain a developer of end-to-end services for their customer base.
Buy vs. make non-bank products?
Banks have yet to acknowledge the urgency to own non-bank products. For their digital ecosystems to thrive, this is key to success! The question is, will they buy non-bank products or develop themselves? In general, banks are not the provider with the highest quality of services, meaning that it's safe to say that buying value-added extra services is a better choice because it enables flexibility. 
To develop a digital ecosystem successfully, banks should avoid the following classic mistakes:
No perspective on the spheres of life & everyday events of the end customers 
Thinking too much about individual components & inventory products and too little on real-life areas
Inflexible & closed IT infrastructure 
Selection of strategic partnerships not broad enough
Insufficient budget and lack of real commitment to create an optimal MVP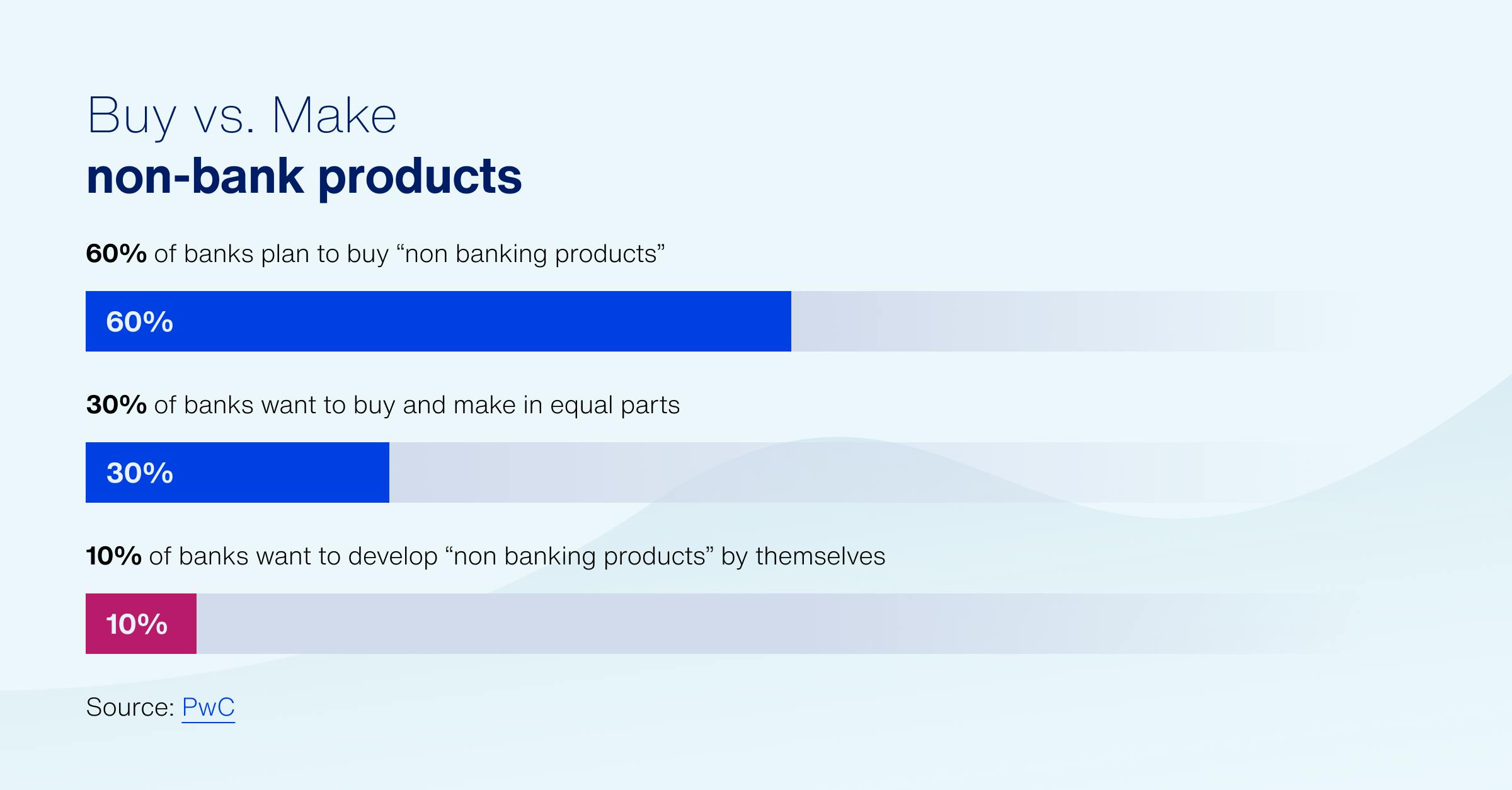 Conclusion
The study done by PwC proves yet again that Etvas has what it takes to tackle several of the core needs banks have today. Relevance to the customer matters more now than ever. A holistic approach for setting up a "living" digital ecosystem is the key to boosting profitability, standing above the competition, and ultimately, exceeding customer expectations.